Prevent Fires in Riverside this 4th of July
6/29/2021 (Permalink)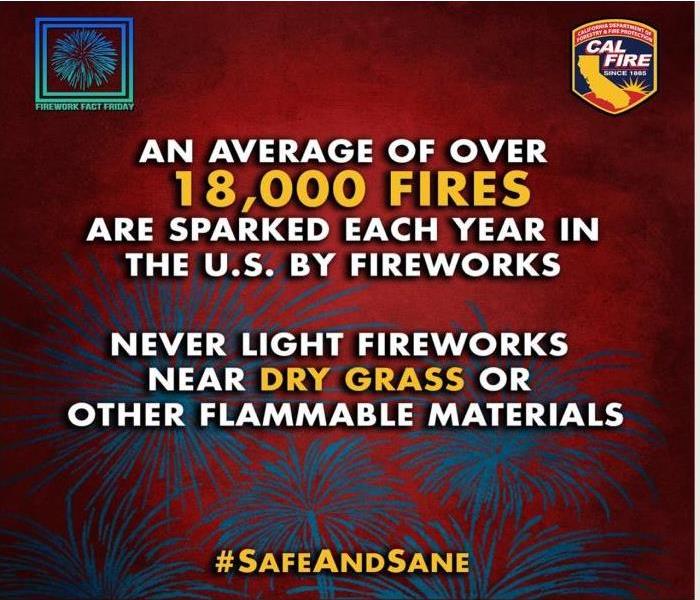 Lighting fireworks is illegal in the city of riverside, plan with your family to see a professional and safe show
The Most Exciting Fireworks Are Usually Illegal
How do you know if you're fire works are safe or legal in your area? In some states consumer fireworks are banned. What about the "safe and sane" novelties like sparklers or noisemakers? Are these legal in your area? "Even if you can buy fireworks in your state, the laws could be more complicated than you think. Consumer fireworks have multiple designations, permit requirements and permissible use cases which vary by state. Your city or community may assign stricter rules on top of these. The only way to be sure is to check the laws in your area." -Safety.com
Fireworks in Riverside, California
Fireworks are illegal in certain areas of California because each year serious injuries and millions of dollars in property loss occur from wildfires sparked by fireworks. Large grass crops and dry vegetation increase the threat for devastating fires throughout all of California.
Officials in Riverside are raising the alarm about illegal 4th of July fireworks due to extremely dry conditions this year. Sparks from fireworks can land on trees, brush and other vegetation, sparking wildfires.
"We've had 40% less rainfall in the last year, we have a lot of light flashy fuels that will spread fire quickly and put our firefighters in danger and then put our residents and property in danger," said Riverside Fire Chief Michael Moore. From LA List
Remember fireworks spark fires!
Know the Law
California has zero tolerance for the sale and use of illegal fireworks. Illegal fireworks include:
Sky rockets
Bottle rockets
Roman candles
Aerial shells
Firecrackers
Other fireworks that explode, go into the air, or move on the ground in an uncontrollable manner
The best way to stay safe from fireworks is to not use them. Instead, attend a public fireworks display put on by professionals. Fireworks are dangerous to people and pets. Using them puts your property at risk. Hand-held sparklers burn at 1,200 F. Remember, wood ignites at 356 F and burns at 575 F.
Don't Spark a Fire this Fourth of July!
Where can you view fireworks in Riverside?
Free event displays a spectacular array of fireworks at two separate locations which include:
La Sierra Park (5215 La Sierra Ave.)
Ryan Bonaminio Park (5000 Tequesquite Ave).
For more information check out:
Be safe, keep emergency contact information handy and remember SERVPRO of East Riverside is here to help!