A Pipe Burst In My Riverside Home, Can SERVPRO Save My Flooring?
7/6/2021 (Permalink)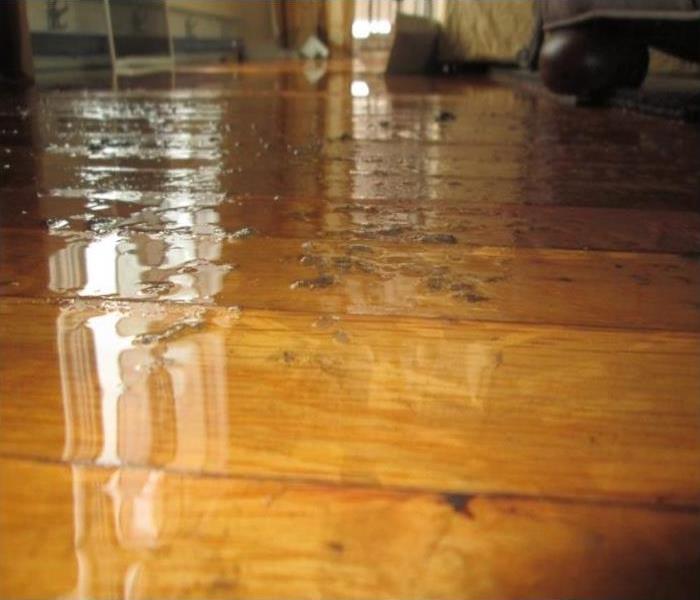 Homeowners have to deal with many things which may include water damage to hardwood floors. Contact SERVPRO right away.
Without Prompt Professional Water Mitigation, Your Hardwood Floors May Suffer Permanent Damage.
Once professionals from SERVPRO arrive at your Riverside home, we can begin assessing the extent of the damage. Our teams can carefully document this process to quickly provide your insurance adjuster with an accurate estimate. Once the initial paperwork is out of the way, our technicians can get to work.
Can Hardwood Be Saved After Water Damage?
Hardwood usually can be restored after coming into contact with water. However, if your home has a hardwood veneer, restoration may not be possible since veneer flooring is much more easily damaged. Our water mitigation in Riverside consists of:
Reducing the humidity in the area to a level between 30% and 45%.
Lowering the moisture content in the hardwood to 16% to allow for drying with hot air.
Removing the floor finish if moisture is not evaporating quickly enough.
Drying from below to avoid ruining the floor finish.
Throughout these steps, SERVPRO technicians can monitor your subflooring with a moisture meter to ensure that we are drying beyond the surface level hardwood.
What Tools Are Used To Dry Out Hardwood?
Unless quickly dried, hardwood will begin to develop mold when it has a moisture content above 20%. Our teams use the following equipment to speed up the drying process and avoid further damages:
Dehumidifiers
Air movers
Penetrating moisture meters
Can SERVPRO Refurbish My Floors if Warping Occurs?
Yes, our technicians can help refurbish your hardwood floors if cupping or crowning occurs. Wood flooring typically takes between 1 to 2 months to stabilize down to equilibrium moisture levels. Once your hardwood floors are free of excess moisture, our teams can sand out any remaining warping in your floors and refinish the wood.
Call SERVPRO of East Riverside at (951)22-2224 if you need help drying out your home. We will send professional assistance as soon as possible to get you on your way to feeling "Like it never even happened."