Water Heater Burst? Here's What To Do
7/27/2021 (Permalink)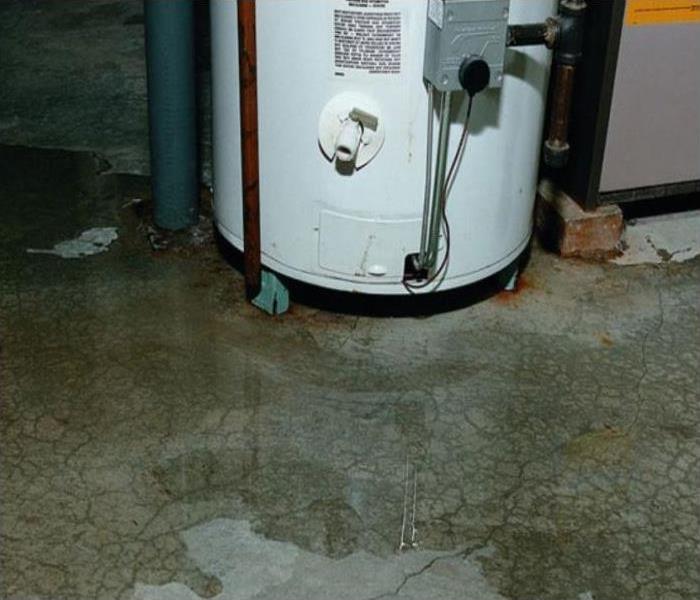 If a burst water heater floods your Riverside home, it can cause serious damages. When this appliance breaks, flooding can be intense as it continuously refills as it gushes out water. When you don't notice the leak right away, you can end up with multiple floors of water damage, mold growth, or even a flooded basement.
When it comes to water heater flood cleanup in Riverside City, immediate action is required to help prevent extensive water damage from the water heater. Here, we will outline the steps you need to take to stop flooding, how to clean up, and ways to prevent hot water heater failure in the future.
What To Do When Your Hot Water Heater Bursts or Leaks
Immediately take the following steps to stop flooding and prevent further flood damage in your Riverside home.
1. Turn off the water.
As soon as you notice that your water heater is leaking, you should turn off the water supply line to the tank. This shut off valve is usually found on the pipe that connects the heater to the main water line.
If for some reason this doesn't stop flooding, you may have to turn off the main water supply or drain the tank and open the pressure relief valve to completely stop the flow of water.
2. Turn off the power or gas.
Depending on whether you have a gas or electric water heater, you will need to turn off the appropriate energy source to the heater. This step is important to ensure safety while performing cleanup. If you can't turn these off yourself or aren't sure how to, call a contractor to come help.
3. Call a plumber to diagnose the problem.
You probably don't want to take a shower in cold water or not be able to take a shower in your home at all. Call a local plumber who can quickly determine the cause of your water heater flood and make repairs as needed.
4. Clean up standing water.
Once you've stopped flooding, turned off the power, and arranged for a plumber to fix the cause of your issue, you can begin the flood cleanup process. To clean up, you'll need towels, mops, buckets, and possibly a wet-dry vacuum depending on the extent of standing water.
While cleaning up, open windows and set up fans to encourage air circulation and speed up the cleanup process. Once you've finished cleaning up, you should leave fans and dehumidifiers in the affected area for at least 5 days to ensure everything completely dries. If it doesn't, you're likely to end up with mold growth or structural problems in your Riverside home.
How To Prevent Hot Water Heater Leaks
Since water heaters generally only last between 8 to 15 years, you can't always prevent them from leaking. When your water heater is older than 8 years, the best thing you can do to prevent it from causing flooding is replace it.
Still, there are steps you can take to lessen the chances of a burst water heater flood in your home in Riverside.
Install a leak detector on the water heater that automatically turns it off when it senses a leak.
Drain your water heater once a year to prevent sediment build up which can cause it to fail.
Never ignore even the smallest amount of water leaking from the heater, as this is always a sign of a larger problem.
Install a drain pan at the bottom of the tank that drains outside of your home in case it begins to leak.
Know the signs that your water heater might break:
Popping or rumbling noises
Gas water heater causing a gas smell in your home
Water leaks
You hot water has flakes of rust or sediment in it
The water heater tank is rusting
Burst Water Heater Flood Cleanup Services
The flooding and water damage from a water heater isn't always something that homeowners in Riverside can handle by themselves.
When your water heater causes a flooded basement or causes flooding on multiple floors of your home - you should contact the water damage restoration specialists at SERVPRO of East Riverside for immediate assistance.
Whatever the size of your water heater disaster in Riverside City, SERVPRO Of East Riverside is Here to Help 24 hours a day.