What Parts of a Structure are Salvageable After Flooding?
4/5/2022 (Permalink)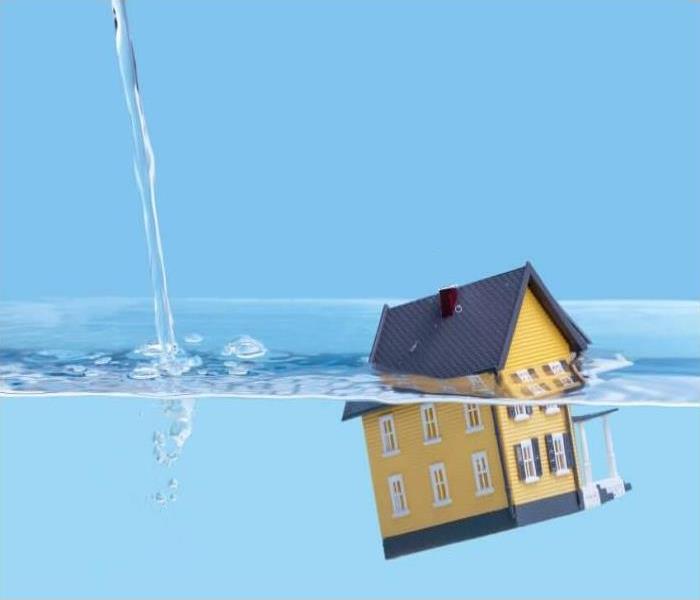 An unexpected flood can quickly lead to flood damage in your home. Call the experts at SERVPRO immediately to prevent additional water loss.
A Sudden Flood Can Affect the Building and Assembly of your Home. SERVPRO Technicians are On-hand to Help Riverside Residents Overcome Flood Damages.
What are building assemblies, and how do they affect drying?
The building assembly is everything in the structure of your Riverside home, excluding the exterior walls. During intense storms and heavy rainfall, some or all of the building may begin to take on water. These can come from flooding into the property or through a roof that may become damaged by strong winds. Once water enters the property, it begins to negatively affect some, or all, of the building assembly, including drywall, crawlspaces, foundations, and framework. Each property has unique characteristics and material build. Our technicians have a strong understanding of how materials affect drying, which allows us to tailor our drying strategy to each situation we encounter.
How are drying procedures decided?
When confronted with flood damage in your home, a professional water restoration technician has to make hundreds of decisions in a small space of time. Knowing which items can be dried cost-effectively and inexpensive to replace can help speed up the timeframe of restoration. Fitted cabinets are commonly made from particle boards with a veneer finish. These can take on lots of moisture in a short period of time, and the cost of drying them often outweighs the cost of replacement with cabinets of similar quality. SERVPRO makes decisions based on the most time-efficient solution to restore your home to its preloss condition.
What is the process of deciding to restore or replace wet building materials?
General information covering the type of material, porosity and responsiveness to drying
Inspection to determine the length of exposure as well as the area of wetness (some materials, like drywall, have multiple layers to test)
Restorability is a combination of the above two results, which is the deciding factor in whether to restore or replace
Are wet ceilings and walls expensive to replace?
Walls that become wet through flooding need to be carefully inspected to understand the extent of the damage. A wall or ceiling has several layers of assembly, some of which may be wet while other parts may remain dry. SERVPRO technicians need to inspect layers of drywall, plaster, wallpaper, and framing to see how far the moisture has migrated. To examine these multiple layers a commonly used tool is a penetrating moisture meter. Items like drywall are often restorable, providing that there is little water contamination present. In these situations, we can use dehumidification and air-movement equipment to dry these materials successfully.
When does the wet drywall need replacing?
Check the seams of the drywall. If they are intact, restoration is still possible.
If areas of the drywall begin to swell, they may need replacement.
Inspect the drywall for signs of mold growth. If present, replace the drywall
How far can water migrate after flooding?
Floodwaters can reach the framing of your home, providing that there is no intervention. It takes time for capillary suction to take place in drywall and plaster. However, with massive amounts of water, the time may be reduced. Some properties that flood show signs of damage to the framing of the property. The frames are usually dimensional lumber with a light finish. If water restoration technicians suspect that the frames are wet, we may need to demo some parts of the wall to access drying equipment. Wet structures can lead to extensive mold growth throughout the home and should always have an inspection after flooding.
What are some necessary procedures for drying walls and ceilings?
Ventilation through the wall using structural cavity drying equipment
Demolition of materials to speed-up the drying process through extra ventilation and access for larger equipment
Temperature and humidity control to speed up the drying process
When is demolition necessary to restore flood damage?
Sometimes demolishing a part of a building's assembly can help to accelerate drying. When there are excessive amounts of moisture found in a structure removing inexpensive materials, like drywall, to gain access to more valuable materials, like dimensional lumber, is a good option. Ultimately, the cost of replacing lumber is high, and it has among the highest rates of repairability For these reasons, it may be necessary to sacrifice plaster, wallpaper, or drywall in order to allow maximum drying focus on the structural framework of your home. SERVPRO technicians have experience conducting controlled demolitions in residential properties and can ensure all materials are replaced "Like it never even happened."
Floodwaters can permeate every aspect of a building's assembly. For expert drying, contact us today!